You'd be hard-pressed to meet a local who hasn't at the very least heard it said: our island is statistically the sunniest country in Europe. 

It's a lesser-known fact, however, that even high-end cars suffer the withering effects of all the heat and direct sunlight Malta enjoys.
We have seen this first-hand in our detailing studio. Ferrari's, for example, are notorious for the deterioration of their interior cabin surfaces and fabrics. And THAT cherry-red colour which is synonymous with the Maranello-based manufacturer? Well, that's not immune either.
(Don't believe us? Check out our portfolio images for some Ferrari before and after shots.) 
Some questions that might be crossing your mind at this point may include: Should I be panicking? Are sun spots and rust suddenly going to start appearing all over my car's body?
The Detail: Paint Depth Analysis and its Benefits in UV Protecting your Car
The key factor relates to colour – darker colours, of course, attract more light.
White car owners are probably the luckiest breed but we would argue that no matter the colour, the material composition of your vehicle's surface layer (known as the clear coat) can be the difference between a low or high-maintenance approach to UV protecting your car. This is doubly true if your car has been re-sprayed at any point before or after purchasing it.
First, some quick clarifications:
Going into the chemical components of these materials by car manufacturer or type would be a blog post in itself.

For now, we will focus on what layers modern cars are typically composed of, and the benefits of using a paint depth analysis gauge (which we provide as a free service – explored further down in this post).

Lastly, we will leave our personal product recommendations in the conclusion to this post.
OK, back to it… The below image focuses on blunt and abrasive damage caused by everyday objects. Although we're not interested in that aspect, the cross-sections do a good job of representing the distinct layers of a car's paint composition, helping you to visualise what's really protecting your car's 'skin'.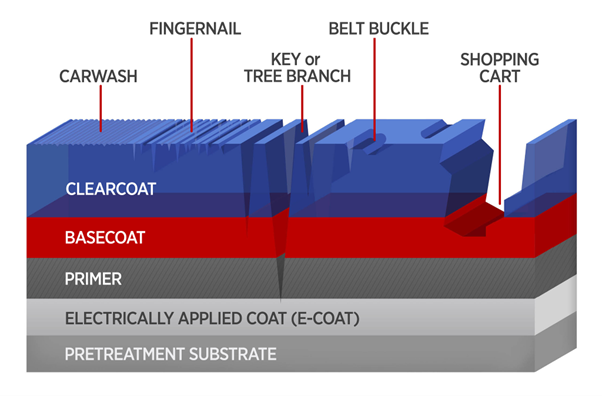 (Source: National Institute of Standards and Technology – nist.gov)
The main takeaway as far as this blog post is concerned is that direct sunlight and heat, mixed in with accumulated deposits (especially glass particles), can work together by eating into your clear coat, causing further damage in the shape of sunspots, fade, or by working themselves into existing scratches (pictured above) that are more insidious and costly to treat. One of the worst case scenarios would be for rust to build up on any damaged surfaces (caused by the effects of the sun, or otherwise).
Nobody wants to run into unnecessary expenses. Understanding the composition of your car's paint and fabrics better will allow you to choose the best value for money option for protecting your car.
This can be achieved with a procedure known as paint depth (or thickness) analysis, which we carry out for free at our detailing studio at Bilom Service Station in Luqa, to determine the layer distribution and chemical composition of your car's overcoat.
(While we do not consider paint thickness gauges relevant for everyday do-it-yourselfers or weekend warriors, if you happen to be a budding detailer interested in setting up your own business or working in the industry, here is a video from Car Supplies Warehouse's Youtube channel that examines the purpose of the tool in more detail):
The Finish: Protect Your Car and Beat the Heat
We've documented it elsewhere on our website and in our social media posts but it bears repeating: heat and direct sunlight can and will detract from the resale value of your car. This may not be a revelation to you – after all, your car begins to depreciate the minute those pristine rubber tyres hit the tarmac – but it does not mean you cannot take active steps to protect your investment by applying a layer of "sunscreen" to your car. 
Cost-effective ways to protect your car, according to statefarm.com include:
Park in the shade. It is the easiest form of protection. By avoiding direct sunlight, you'll help keep your dash from drying and cracking. If it's safe to do so, open the windows a crack to help lower the interior temperature and equalize the air pressure.

Use a windshield sun protector. It's a way to keep your car cool and prevent sun damage. They may appear to be complicated to use, but these visors are actually quite easy to unfold and slide into place on your dash.

Wipe dash with a microfibre cloth. Dust and dirt can cause tiny scratches that can become worse over time. Wipe down the dash frequently to remove all particles. A low-gloss detailing product will also protect it and reduce glare.

Install seat covers. They not only protect leather and fabric seats, but they also help keep them cool.

Protect leather seats with a conditioner. The sun and heat can really do a number on them. To help avoid cracks or tears, keep seats clean, and apply leather conditioner often.
Source: https://www.statefarm.com/simple-insights/auto-and-vehicles/protect-your-car-from-the-damaging-effects-of-sun-and-heat
For a more long-lasting solution – which involves  investment in a specialised product – consider getting your vehicle's paint job analysed for depth and composition first. And in terms of our chief recommendation for sun-shielding your vehicle, we recommend applying paint protection film to your car's lacquer after the test has been carried out. This comes in the form of SiO2 coatings, like Q2Cancoat, Q2One, Q2Pure and Q2Matte, or the new GYEON EVO polysilazane-based range, all of which are available from our store. Such products effectively provide warranty-bound protection against the damage UV light can exert on paint jobs while enhancing the brightness and sheen of your auto's coating in one convenient package. 
If you are interested in learning more about how to protect the fabric and coating of your vehicle, get in touch through our Prestige Detailing contact form and we'll be glad to point you in the right direction with personalised tips and product/tool recommendations. The paint depth analysis test can be carried out after you set up an appointment through the form, free of charge when paying us a visit at our premises.
We offer product application as an in-house, paid service, so if you're finding it difficult to fit it into your schedule, or lack the necessary know-how – or simply need guidance – we're here to help.
https://prestigedetailing.com.mt/wp-content/uploads/2022/09/ferrari-wax-vs-polish-1.jpg
1534
2048
Nicholas Lee Gatt
https://prestigedetailing.com.mt/wp-content/uploads/2019/06/prestige_logo3.svg
Nicholas Lee Gatt
2022-09-05 11:35:11
2023-03-19 14:10:52
The Rub: Can Sunlight Affect My Car's Paintwork and Interiors?